Taking Inventory
Observe which plants are well, which are not, and which have grown too much for the space they have. Observe how the sun moves over your property and which areas are normally in the shade or sun. Look at the ground. Dig up some with a trowel and do the squeeze test: If it is heavy clay or very sandy, you should add organic changes such as fir bark or compost. Note that materials, if any, can be reused in a certain way. A solid concrete path can be broken into pieces to make a retaining wall, for example.
Cleaning and Pruning
Identify the plants to be uprooted or pruned. Remove or replant plants that have been poorly lit (e.g. a shaded hydrangea growing in full sun with faded leaves). Prune back overgrown, shapeless shrubs. Thin plants that move around each other. If large trees lean into your neighbour's garden or make buckles, consider cutting them down and replacing them with smaller trees planted further away from the fence. Pull weeds such as splashes from between paving stones, dandelions from lawns. Start a compost heap. Mow and fertilise all the trimmings in the garden except weeds with seed heads or sick plants. Use compost later to enrich the soil.
Make a Wish List
Write down the things you want in your garden. A patio to entertain? A small ponds? Raised beds for vegetables? A garden shed? Beds for colourful annuals? A lawn for children to play on? An English flower border, lined with winding stone paths? Keep the following in mind when making your list.
Your climate. Is it dry? Disturbed by the midday wind? Grey and rainy most of the year? Climate and climate determine the best plants to grow.
The land around you. Do you live at the foot of the mountains or near the beach? Desert or urban gorge? Is there a view you can borrow as a backdrop to frame with some of the same plants that grow wild outside your fence? Or a view you want to block (e.g. a neighbour's garage) with hedges or trees?
The style of your home. A Spanish style house lends itself to a Mediterranean garden with lavender, citrus and a fountain, while a house with cedar in a north-west forest is perhaps more at home among rhododendrons, vines and conifers. A southwest adobe would be best accompanied by Palo Verde trees adapted to the desert, cacti and wild flowers.
Draw up a Plan
Determine how much work is needed, from laying paths and paving terraces to installing sprinklers, edge strips or a new lawn. Ask yourself if you have the time, desire and knowledge to do the work yourself, or to provide help where it is needed. You may consider hiring a landscape architect to draw up a plan that you can follow. Ask for recommendations from friends or neighbours. Local nurseries sometimes offer limited design services. Measure your garden and be ready to plan.
Consider Paths, Terrain and Outside Lighting
Paths, patios, decks and garden sheds are the crucial elements of a garden, and in the West, irrigation systems are even more important. Some gardeners sketch, after scraping the bare soil, structures and plants in the soil. You can use gypsum or place small poles for this.
Implement a Colour Scheme
Consider your favourite colours, whether they are soft romantic shades like pink, lavender and pale apricot, or strong tones like purple and orange, work your palette around them. When drawing up your shopping list, consider perfume plants (roses, jasmine), movement (ornamental grasses), and seasonal interest (spring flower and autumn colour).
Prepare Your Soil & Plant
For all plants, except the native ones, most of which are "thin" like their soils, generous amounts of compost or other organic changes in the soil work, about 2 to 3 meters deep. If possible, hire a milling cutter to facilitate the work. Plant most trees, shrubs, plant cover, vines and perennial plants in autumn. Tropical fruits and tender citrus should be planted in frost free months.
Add the Finishing Touches
Containers, a large bench, outdoor sculpture, aquatic elements, and bird houses make a lively and loved garden.
Cost-savers:
• Do the simple work yourself. Divide it up into small jobs spread out over weeks or months.
• Cover an ugly fence with vines rather than replacing it. Alix Olson planted 10 bougainvilleas (B. brasiliensis 'Crimson Red') along her 54-foot-long fence. Other good choices are Lady Banks' rose (Rosa banksiae) and Japanese honeysuckle.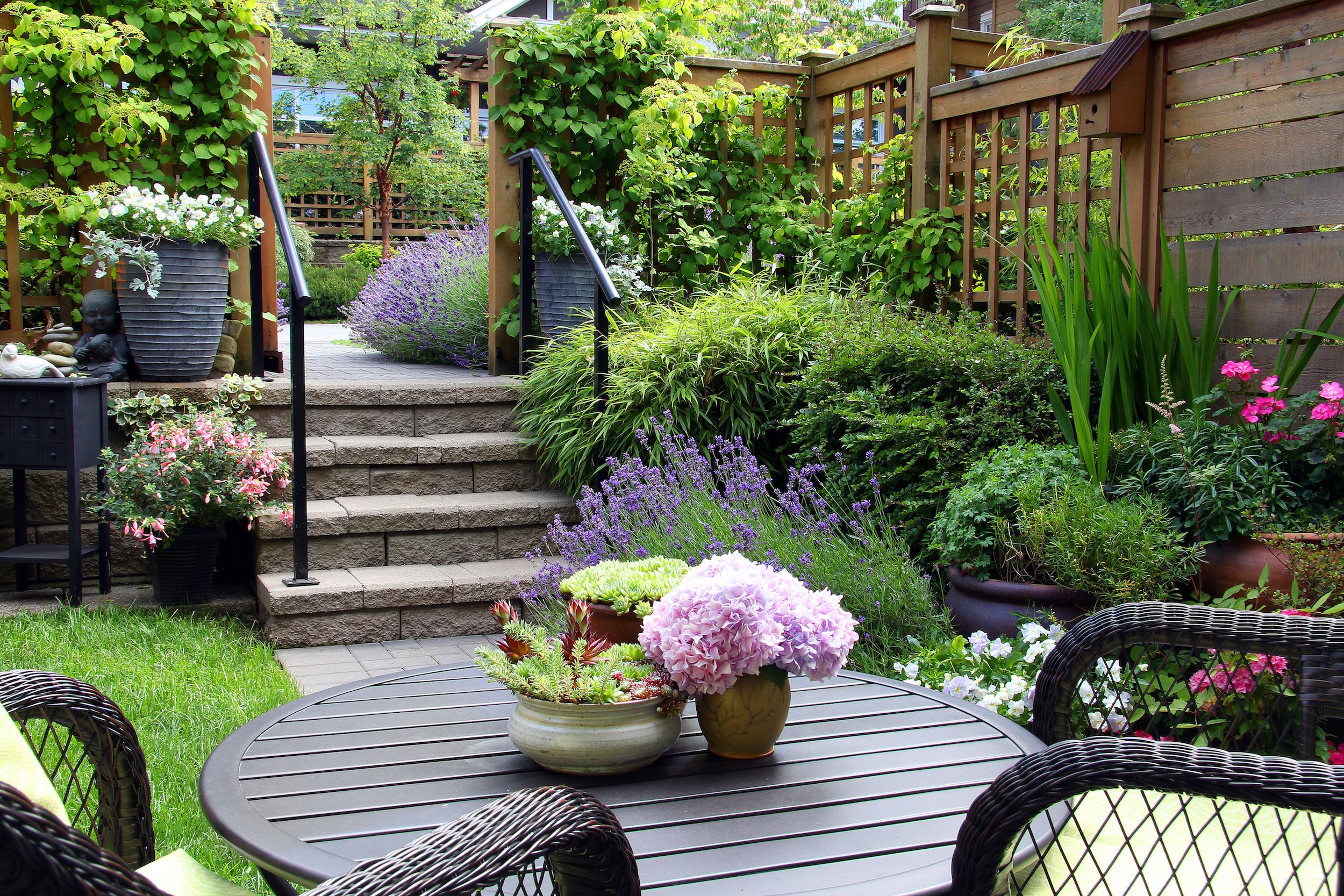 • Use recycled materials. "We were able to obtain free pavers from the disposal yard and from the neighbors' house," says Scott Terry. "They were dismantling an enormous backyard barbecue. We used about 100 of those weathered concrete blocks."
Best ideas:
• Use drought-tolerant plants. Even unthirsty plants can look lush and beautiful, and they're easy to care for.
• Plant tough but attractive ground covers between pavers. Chamomile and creeping thyme don't need mowing, and unlike lawn grass, they bloom in summer.
• Install pipes to deep-water the trees. "Trees on hills are often unhealthy because they don't get the water they need," says Bob Kahn. In the planting hole around each new tree, workers installed three perforated PVC drainage pipes for easy watering and fertilising-setting them vertical and parallel to the tree trunks, then filling them with gravel. Each pipe measures 3 1/4 inches in diameter and 3 to 5 feet long, with 1/2-inch perforations. The pipes are really paying off, with healthy, robust trees.